---
ALICE FAYE'S MAGICAL SONGS
TOUCHED HEARTS AROUND THE WORLD
It had been one of those long days when I had been out of touch with almost everyone. So it was after 10 when I finally settled down to read my out-of-town newspapers. That's when I saw it--a 4-column headline on page A-15 of the New York Times: "Alice Faye, Hollywood Star Who Sang For Her Man, Dies." Oh, that can't be true, I said out loud. And a certain sadness unsettled me.
Why it was only yesterday that I fell madly in love with Alice Faye. It was a love affair --- unrequited to be sure --- that has lasted nearly six decades. I know I have publicly announced my love affair with Alice Faye before. But please indulge me while I wrestle with my emotions and my memories of a wonderful and classy lady.
Alice Faye was my first love, at that awkward time when I was sprouting peach fuzz on my chin and my once bell-clear boy soprano voice was little more than a cracked contralto. She was a stunning beauty and something about her presence on the giant movie screen spoke to me in a language that I didn't really understand then. Today, they'd probably label it "Male Teenage Raging Hormonal Syndrome." I wasn't certain then whether it was the carefully curled blond hair, those full lips or that provocatively turned up nose that did it. Alice won my heart.
Now, more than ever, I am sure a lot of it was that rich, husky voice. Nothing ever sounded quite as lovely and heartbreaking at the same time as Alice singing "You'll Never Know" in "Hello, Frisco, Hello". It was one of those voices that surrounded you with its warmth and richness and let's face it --- sexiness --- even though I didn't know too much about all that just then. But I sure was eager to learn. At that time, I had entered the early stages of visual anatomical studies that all teenage boys go through, so her full, ripe figure certainly played a role in how I responded to Alice. The attraction was so strong that I never missed a movie starring Alice. Truth is, I saw most of them several times or more, often on the same day in those days when movies ran continuously without intermissions. On more than one Saturday when I went to the first matinee at the Sugarland Theater, I was routed out about midway through the last showing by a brother with a message from the leader of the pack that I was to get myself home immediately.
There was always a good deal of anguish on my part as I watched her movies. I loved Alice, unconditionally. I hated Tyrone Power, Don Ameche and John Payne, who usually were her leading men. In the darkness of the Sugarland Theatre, I wanted to yell out that she was wasting her time on them, that she deserved better --- like me. I especially hated Tyrone Power in "Rose of Washington Square", the fictionalized version of the Nicky Arnstein-Fanny Brice story. (You may remember it reincarnated as "Funny Girl" on Broadway and in the movies). He was a rat disguised as a louse, I wanted to tell her. But Alice was loyal and big hearted and stood by her man. No one ever sang "My Man" the way Alice did.
In my late teens, when I was still the purest U.S. sailor ever to squeeze into a pair of tight bell-bottoms, my love affair with Alice never waned. I carried an autographed picture of her with me as my PBY squadron hop-scotched across the Pacific. I saw "Hello, Frisco, Hello" for the first time on a coral atoll. The second time, a few months later on the fantail of a seaplane tender. And wondered if Alice would ever know how I felt about her. After the war, when she quit the movies and began appearing with her husband, Phil Harris, every Sunday evening on "The Phil Harris-Alice Faye Show" on radio, I never missed it. Her comedy timing was perfect as she played the foil for Harris' outrageous behavior in the skits. And she usually sang. When she sang Irving Berlin's "Let's Take An Old Fashioned Walk," I was ready. If anything, Alice's voice was even more throaty, more husky --- all right, more sexy --- on radio than it was in the movies. There was something so natural, so unpretentious about the way she sang --- straight from the heart. When I finished the Times story, I took out my four Alice Faye albums --- two are outtakes from her movies, one is music from the radio show and the other her greatest hits. The latter is my favorite. She sings "You're A Sweetheart," "This Year's Kisses." "Rose of Washington Square," "No Love, No Nothing" and "You'll Never Know." It was near midnight, but I listened to the album from start to finish and when "You'll Never Know" came on, I was transported back to the coral atoll when I first heard her sing it. It was a magic moment. That was part of her special appeal, she could spin magic with her songs. And touch the heart of a teenage boy, a lonely sailor and a guy riding off into the sunset of life.
Kelly Leiter
LaFollette Press
5-14-98
---
ANNE WHITFIELD
ANNE WHITFIELD, former actress, portrayed Phyllis, the younger daughter of Alice Faye and Phil Harris, on their weekly radio show in the late 1940s and early l950s. We contacted her and she agreed to share with us the following:
Anne's recollections of Alice:
Alice Faye was nice and I really idolized her. At ten years of age, it was my aspiration to grow up and be like her. I thought she was a wonderful role model - - very refined, beautiful, and well-groomed. I remember that the seams in her stockings were always SO straight.

I waited with anticipation each Christmas to see what gifts Alice would give me and Jeanine (Jeanine Roose played Alice, Jr., the older daughter of Alice and Phil). The gifts were always from Bullocks Wilshire, and they were exquisite.

Because Alice refused to fly, we would travel by train to Chicago and New York for the last shows of the season, and it was all luxury at its best.

I remember going to Washington, D.C. for the Harry Truman inauguration. Originally, Jeanine and I were to be part of the show, but it ran too long into the night, and our parts were scrapped, to our great relief and our mothers' disappointment.
I was born in Mississippi in 1938. My mother was screen-struck and wanted to go to Hollywood and become an actress. My mom TAUGHT drama and speech – that was OK with her puritanical father – but she wasn't allowed to perform and she wanted to. Short of her own success in movies and/or radio, she had a daughter who she thought was very talented. I would put on shows back in Georgia for family and neighbors, which included acrobatic dancing and dressing up like movie stars, and I was an early reader. In 1944, my mother drove the two of us on Route 66 out to Hollywood. My father was fighting in the Pacific. Before the war, he had been director of bands at Ole Miss, but gave it up for the move to Los Angeles. He then worked for the Veterans Administration.
Mother had written letters to radio producers in Hollywood, suggesting if they had any parts for a six year old they should consider Anne, as she could read very well. The letter that paid off was the one to Carlton Morse, producer/director/writer of ONE MAN'S FAMILY. I got the part of a seven year old whose family had been caught in the war in Germany and had come home. I still had a southern accent, but Mr. Morse masked it by having me speak only German at first ("Penelope" had ended up in a concentration camp, traumatized and separated from her family).
During ONE MAN'S FAMILY, I also had a part on Mr. Morse's HIS HONOR THE BARBER and then a running part on CISCO KID. In time I had a running part on the FANNY BRICE SHOW, but ONE MAN'S FAMILY was the longest-running gig I had, and it even lurked in the background while I was doing the PHIL HARRIS/ALICE FAYE SHOW for six years.
As I remember, I auditioned for the PHIL HARRIS/ALICE FAYE SHOW more than once. I felt pressured to get the part and felt like maybe I had a slight advantage because I still had a bit of a southern accent, and Phil was from The South.
Q. What goes in to making a PHIL HARRIS/ALICE FAYE SHOW?
A. Well, there were rehearsals sitting around a table. The show was a comedy, and the writers were like the stars of it, and so they would laugh at their own jokes uproariously when you are reading one of their jokes. If it doesn't work, then immediately everything stops and they do rewrites, so you are scribbling on the script like crazy. That's a run-through. Then you get up and do it in front of the microphone and they gradually add in the sound effects and the music. There are several run-throughs with fewer and fewer stops by the director to correct something, and then the dress rehearsal. Then you have a show with a live audience and a warm-up ahead of the show where the announcer came out. Then Phil came out, and they would do things to warm up the audience. There was this warm-up for like a half an hour or at least fifteen minutes before the show. The thing I remember about the PHIL HARRIS/ALICE FAYE SHOW was that the announcer had this funny way to condition the audience to laugh. He'd be standing up and wearing probably a suit or a sport coat with trousers, and he would grab his pants at the knee and jiggle them up and down on one leg, just one leg, toward the audience. Somehow he conditioned the audience to laugh when he did that. So whenever they did a joke on the show and they wanted laughter from the audience, the announcer would come out and jiggle his pants.
Q. So, who is teaching you how to act? Who is teaching you comedic timing? Is the Director directing you? Do you feel like you are acting or like you are reading a script?
A. As far as the acting, I think I did have some talent, so I had an instinct how to do it, but the comedy thing really takes more experience and technique, and I really didn't have any of it. My mother didn't have any. She kept telling me how to read lines, when to pause, which word to emphasize, and stuff like that. In fact, she even had me mimicking her on certain things, but the comedy thing I just had to learn by doing. Fanny Brice taught me about when to come in after a laugh. You don't come in after the laugh, you come in when the laugh is about 80% finished; and you have to project, otherwise you won't be heard.
Q. So you were learning on the job?
A. Yes, exactly. Pretty stressful.
Q. How many years were you on the PHIL HARRIS/ALICE FAYE SHOW?
A. I think I started at eight years of age and finished at thirteen or fourteen.
Q. What was it like when there was a guest star?
A. I only remember Jack Benny and Dennis Day.
Q. When you were at a table read, who was sitting beside you?
A. Probably Jeanine, who played my older sister.
Q. How did Alice and Phil treat you? Were they maternal/paternal toward you?
A. Not especially. The only time they were particularly warm was at Christmas. There was a generation gap there, and I don't think the people there were particularly mentoring to kid actors. I was just supposed to be professional –
don't drop the script, pick up my cues, and don't flub on the air.
Q. Since it was a comedy, was it a fun set?
A. Not really. You might think so. Comedy is the hardest, and these writers were just so nervous.
Mr. Morse didn't like to share his cast with other shows, so when the PHIL HARRIS/ALICE FAYE SHOW ended, he brought me back into ONE MAN'S FAMILY.
I think the PHIL HARRIS/ALICE FAYE SHOW ended because Phil and Alice didn't want to do it anymore, not because it lost popularity.
ANNE WHITFIELD
May 2, 2013
Note: Anne Whitfield is presently running a Bed and Breakfast in the Pacific Northwest.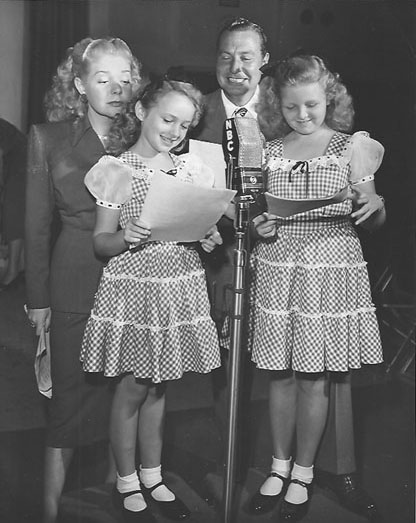 Alice, Anne, Phil and Jeanine
---